HAHA...I know right...
Ok First one off the list...Salamanders
First Main whole story book all to itself concerning the Salamanders Chapter mainly a Company who's Captain was killed not but a few months before hand from a Multi-Melta at point blank...I don't even think a 3+ save would work like that...haha
But luckly his Second took over...Even over the protest of a few of the Sergeants and quickly became the man to lead the Company to future endenvours of greatness...only for the last 20 pages or so get killed by one of his own men...REALLY...COMMON MAN...I mean yes Nick Kyme *the Aurthor* did a great job...I mena you even knew that this guy was going to do something like that...even explained how he was able to get by the Chaplains...this guy was sick...and was a loyalist marine to boot...and I use loyalist to the extreme right...haha
But I won't spoil it for you guys as the book has only been out for a few months so far...and not everyone has had a chance to read it...so that is all I will tell you concerning that book...
I just look forward to the second book in the series...
Second book...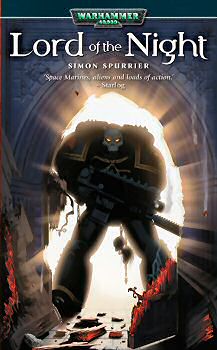 Lord of the Night
By: Simon Spurrier
Honestly...I want a second book with these main characters again...Yes I know the book has been out for ages now...but I was re-reading it after the Salamander book this weekend...*which is actually the 3rd time for the Salamander Book...*
The way he goes around as one of the Heresy Marines...from 10,000 years ago...it just brilant...I have never read any books with people that make it that far into the future...yes the Games Workshop people hint that you can come out x amount of years into the future...but the furthest one I have ever seen was that Assassin who came out what 600-1000 years after they were sent off...not 10,000 years...haha...I mean this guy knew his Primarch...knew the Emperor himself...saw worlds broughts into the fold that was the growing Imperium...It is understandable that he would go after the one artifact of his Primarch...
When he finally meets up with his own Legion it is of one of the other warbands...who went he route of pure chaos...after a knock down fight between the two out main anti-hero character here takes off to find his own warband...
Honestly...I want to see if he ever found them and if they were still the legion men that he left 10,000 years ago...and would they accept him back into the fold as their commander at all...
That book was great...honestly it was...I just think that a book like that deserves more then one title...I mean the Ultramarines are coming up on the 6th novel...Space Wolves have already his 6...I mean really...give the Anti-Hero some love here...