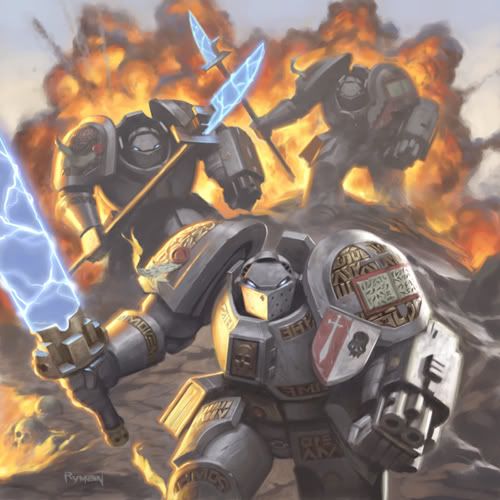 Silly wolves with their Leadership 8...I dropped my Sternguard squad and Terminators and brought in a Grand Master and 4 Grey Knight Terminators...Threw them in a Crusader with Cassius attached to the unit and it was a hard hitting unit indeed...Unfortantly I left the unit to far to the right to kill a lot of stuff but the 3 units they did touch all died before they finally got killed off one at a time over the course of the the 5 turn game...haha
4 Tact Squads in Rhinos, 2 Sniper Squads with Telion, an Iron Clad Dread, Crusader with Cassius the GK Termies ate up my 2k list...but they held their own and the snipers were a great distraction...I was able to distract two Grey Hunter squads with one 5 man sniper squad in the woods for 4 turns...by the time he took one of them for his own home objective which was contested by me and holding my own with no issues the game was about over...
He was down to about 12 Grey Hunters through out his whole army and 10 or so blood claws and the Grey Hunters were strung out between 3 squads...all I lost was the command squad and a squad and a half of Tactical marines with those scouts in the woods...1/3 of my army to a majority of his...
But he was a great sport about it...and seeing that he is still learning the game he made a few mistakes but the rolling was not in his favor in that game at all...
Also I got a good chuck of my supplies I think I will be needing to make my first Warhound Titan...Hopefully I can start on it this week...but I will see how it goes...
Everyone have a great week...because I sure as heck will try...